Latitude:N 37° 22' 59" Longitude:W 05° 59' 08"
The station is powered by a Vantage Pro2 weather station. The data is collected every 2.5 seconds and the site is updated every 60 seconds. This site and its data is collected using Cumulus Software. The station is comprised of an anemometer, a rain gauge and a thermo-hydro sensor situated in optimal positions for highest accuracy possible. In June 2010 installation was recognized with the label Meteoclimatic of outstanding quality, Star Gold. Meteoclimatic is the most important network of non-professional automatic weather stations of Spain
Seville
Seville is located southwest of the Iberian Peninsula, in the center of the Autonomous Community of Andalusia.
Sevilla, capital of Andalusia, Spain's fourth largest city in the number of inhabitants. It has 704,414 people in the municipality. The total population in the capital and 105 villages in the province is 1,835,077 inhabitants in an area of 14,042 square kilometers. Seville can be considered, without doubt, the artistic, cultural, financial, economic and social development of southern Spain.
At only 6 meters above sea level, in full Vega and orchards of the Guadalquivir River, and along it, forms an urban agglomeration that extends into the Aljarafe, marshes, Do˝ana National Park, the Sierra Norte and Sierra Sur.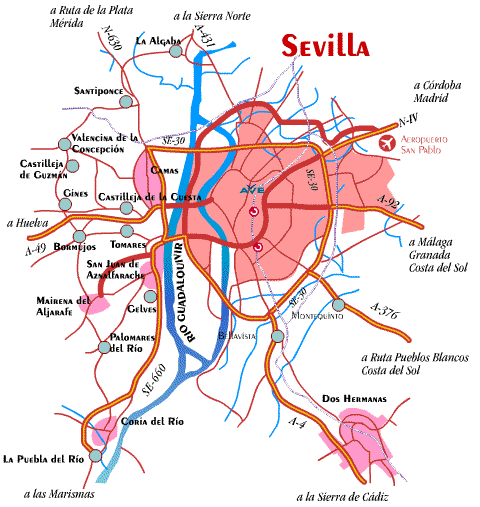 Source Town Hall of Seville.
About This Website
Special thanks BelÚn, Lorena, Manu, Luis, Jes˙s, Chory, Javi, Ray, Manuel, Juan Luis and many other people that with their selfless help and unconditional support, have made possible this site.
This site is a template design by CarterLake.org with PHP conversion by Saratoga-Weather.org.
Special thanks go to Kevin Reed at TNET Weather for his work on the original Carterlake templates, and his design for the common website PHP management.
Special thanks to Mike Challis of Long Beach WA for his wind-rose generator, Theme Switcher and CSS styling help with these templates.
Special thanks go to Ken True of Saratoga-Weather.org for the AJAX conditions display, dashboard and integration of the TNET Weather common PHP site design for this site.
Thanks to JosÚ Luis at Meteo Aerolugo for the Spanish translation control files.
Template is originally based on Designs by Haran.
Thank you all